As many Xotic PC customers know, integrated audio can be a major weakpoint in a laptop. This is why many laptop owners search for audio accessories to boost and enhance their multimedia experience. During this process numerous factors are taken into account before making a final purchase: 1)Quality 2)Performance 3)Price 4)And perhaps style. If you are in the market for a gaming and multimedia head set, then the eDimensional AudioFX Pro 5.1 Channel Head Set may well be the product you have been searching for. Designed by console modder extraordinar Ben Heckendorn, the AudioFX Pro is writhed with features that make the audio savvy buyer drool with delight. At around $59.99, the AudioFX Pro is very affordable compared to its competitors. After reading multiple reviews about this head set I decided to make the buy, and upon recieving it I have felt nothing but amazement.
After tearing apart the UPS packaging, I found the AudioFX Pro to compliment my Sager NP5792 quite well.
Front view.
Back view.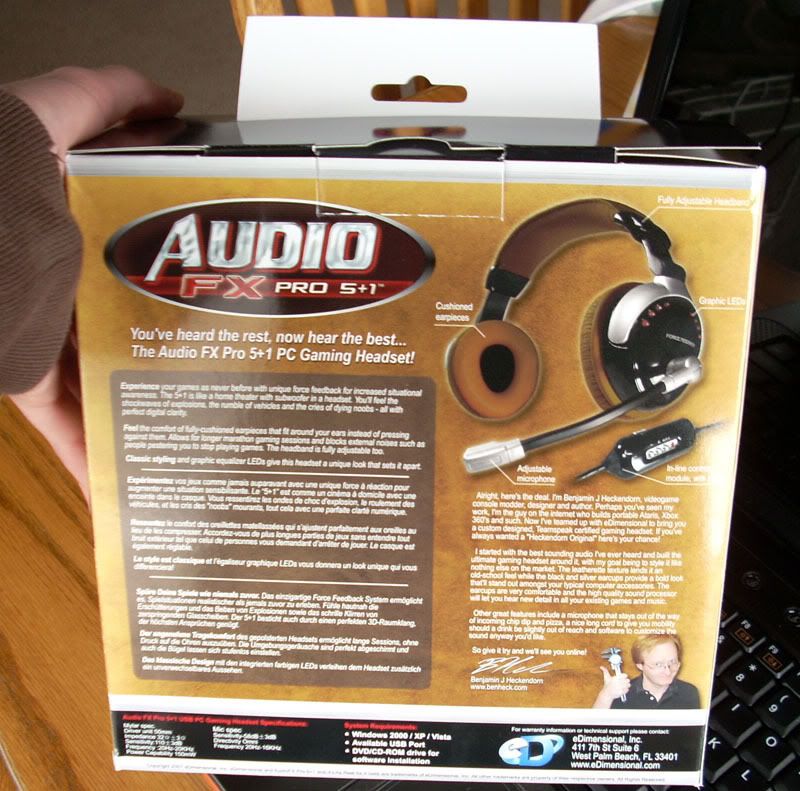 The box contents included, of course, the headset, an installation cd, and a user manual.
The AudioFX Pro connects via USB and has an in-line control module with vol+, vol-, mute, and force feed back levels. It also uses a built in audio decoder, so no special sound card is required.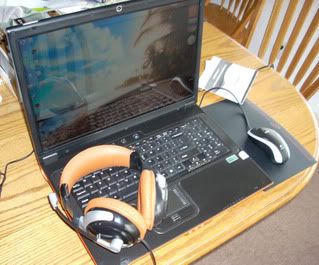 After installing the drivers, I opened the control panel for the AudioFX Pro and found numerous options for my listening experience.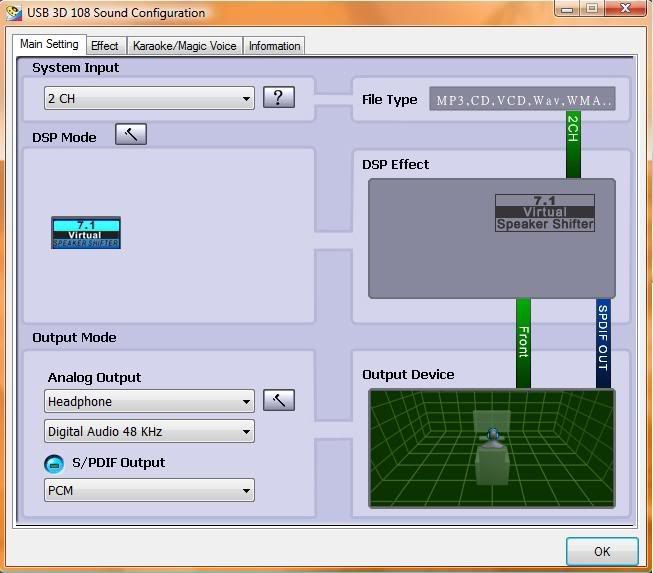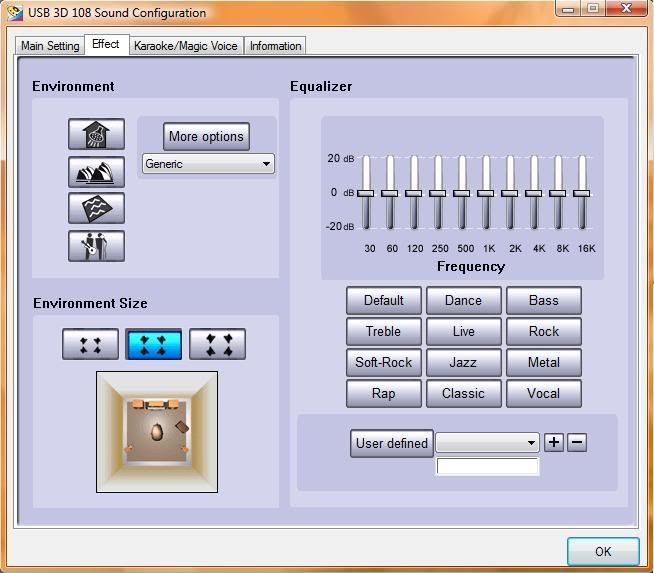 There was also extensive options for the fully adjustable microphone.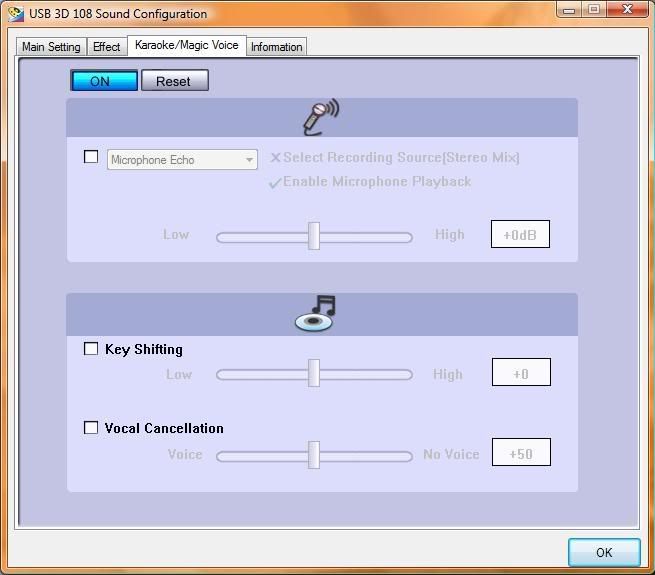 The last step was to.... try them on. The fully adjustable headband allowed me to get a comfortable fit to my mellon and the cushioned earpieces also did their part. (Pardon the pictures lack of expression)
I immediately loaded up a game, Quake Wars, which could utilize the surround sound capabilities of the AudioFX Pro. Only a few minutes into the game and it felt like a completely different experience. The sounds were extremely crisp, and I could hear things I had never been able to before. The directional sounds were never better, and I could locate my teammates and opponents by only their footsteps. As I thew a grenade to my left and waited to hear it explode, the force feedback suddenly kicked in and I literally felt the explosion as well as heard it. The bass on this headset is incredible and is excellent for not only loud explosions, but also music and movies. The mic was also great quality, although it took some minor tweaking to get the right output level and also muting the onboard mic.
I can only say that the eDimensional AudioFX Pro 5.1 Channel Head Set was my second best decision to buying my Sager NP5792 in the first place. If you are looking for a great 5.1 channel headset for an affordable price, then the eDimensional AudioFX Pro 5.1 Channel Head Set is the one for you!
PROS:
-Quality Build
-Price
-Surround Sound
-Force Feedback
-Adjustability
-Noise-Cancelling Mic
-USB
-Built in Audio Decoder
-Plug and Play
CONS:
-Can become slightly uncomfortable after long use
-Sudden popping noises while booting up or connecting
-Kicking too much A$$!
More Audio Specs:
-Driver Unit 50mm
-Sensitivity 110+/-3dB
-Frequency 20Hz-20KHz
-Power Capacity 150mW
More Mic Specs:
-Sensitivity 58dB+/-3dB
-Directivity Omni
-Frequency 20Hz-16KHz
*Supports Windows 2000/XP/Vista
*Must have available USB port
*DVD/CD-ROM Reader required for install